Rembrandt was still young at this stage, but his reputation already preceded him. From 1627, he taught many students, including Gérard Dou and Jan Victors, and he also travelled frequently between Leiden and Amsterdam to satisfy the orders of his rich clientele. On one of these journeys, he met the daughter of a merchant, Saskia van Uylenburgh, who became his first wife, not to mention one of his favourite models. The early 1630s were then a good time for Rembrandt – he produced his first group portrait, The Anatomy Lesson by Professor Nicolaes Tulp (1632), and this genre became representative of his production. The work, created for the Brotherhood of Surgeons of Amsterdam, suggests that the artist himself attended autopsies, which would have been unusual for the time.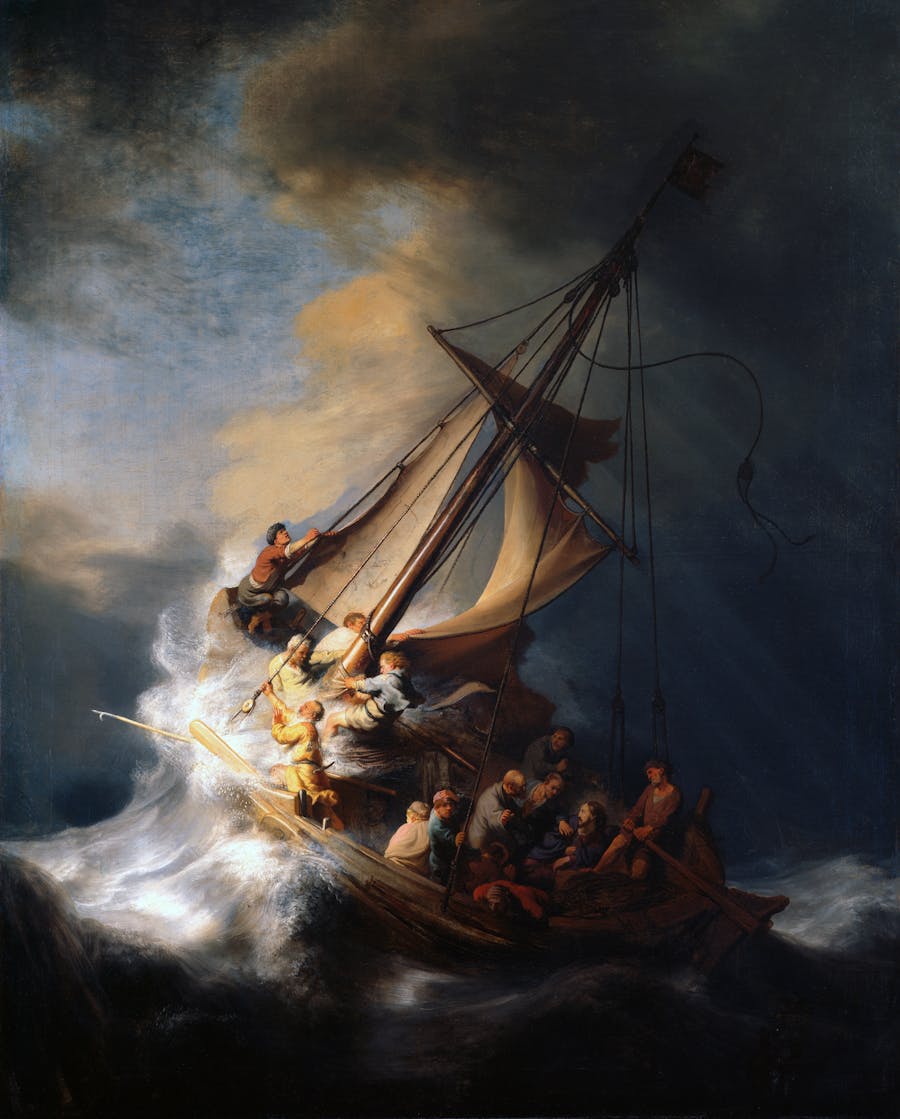 Rembrandt also tried his hand at history and mythological painting, but his early scenes often included clumsy or unappealing elements, such as the stilted gestures in The Abduction of Europa (1632), or the titular infant's grotesque expression in The Abduction of Ganymede (1635). Other paintings were more successful in their composition and execution, like the naturalism of Christ's body in The Descent from the Cross (1633) and the incredible lighting in his landscape The Stone Bridge (1637).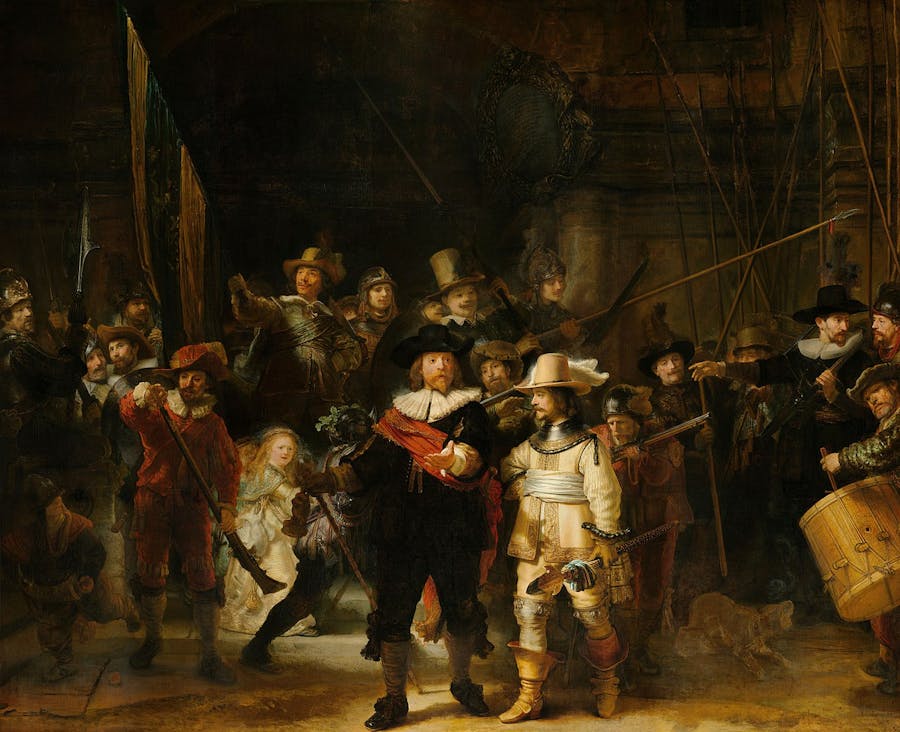 Sadly, the period of the 1640s contrasted with the successful beginnings of Rembrandt's career. In 1639, the artist went into debt to buy a house in Amsterdam. Then, his son Titus was born in 1641, but in 1642 his wife died suddenly. That same year, he delivered The Night Watch, a monumental depiction of the civilian militia that  from audiences. The controversy was over his unique composition – rather than depicting the militia in strict rows according to status, he shows them in a flurry of activity. His pupil Samuel van Hoogstraten wrote about the painting that, "it is so painterly [schilderachtigh] in conception and so powerful" and it is obvious that it is making a lot of noise. Additionally, the members are rendered realistically rather than as idealised portraits, so naturally, some members may not have been flattered by their likenesses. It is a truly great example of his use of lights and shadows.
See also: Small Pennsylvania Museum Discovers Rembrandt in its Collection
In 1645, Rembrandt hired a servant, Hendrickje Stoffels, whom he had a daughter, Cornelia, with in 1654. The two never wed, leading Hendrickje to be banned from receiving communion at the Reformed Church. Rembrandt painted numerous portraits of her and also continued to produce high-quality engravings, such as The Hundred Guilder Print (c. 1648).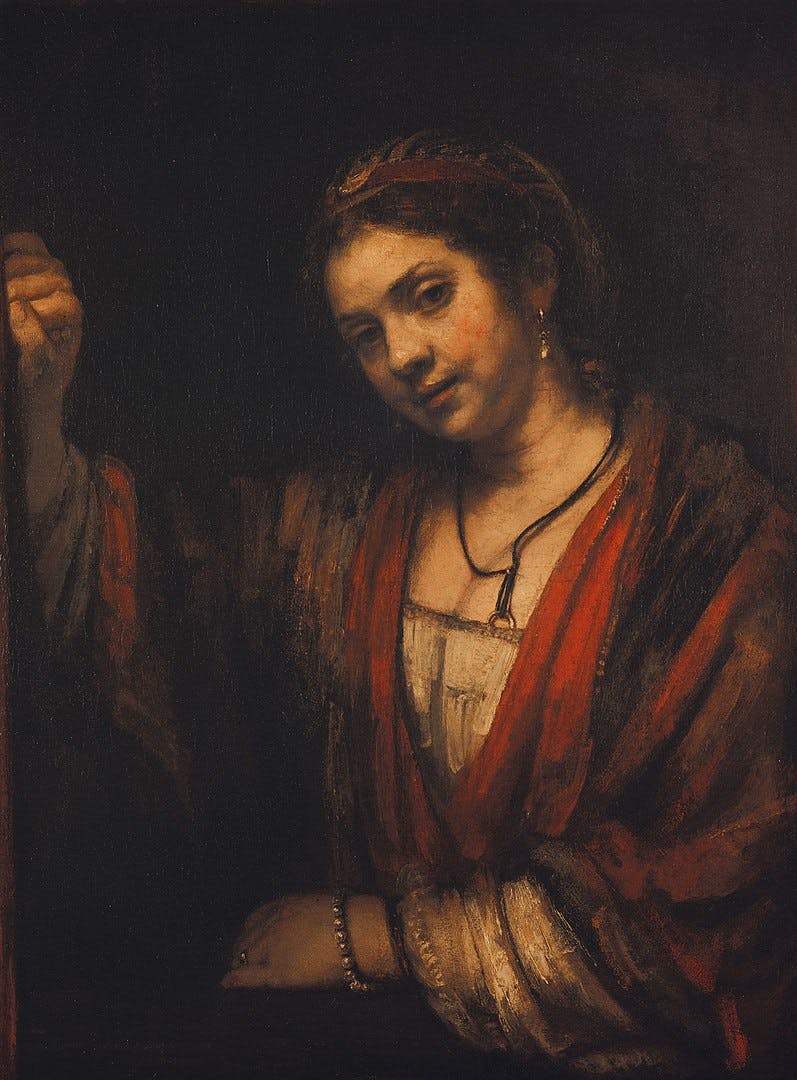 Around this time Rembrandt's style became its own, and he produced unparalleled genre scenes and superb paintings, such as Portrait ofJan Six (1654). Today, his portrait paintings are his most successful and well-known works, with many going for tens of thousands of pounds, as with his Portrait of a Man with Arms Akimbo (1658), which sold for £20.2 million at Christie's in 2009, 12% above its estimate, and Saint James the Greater (1661), which reached £13.1 million at Sotheby's in 2007, 43% above its estimate.
Slaughtered Ox (1655) is a still life often regarded as a 'momento mori' or reminder of coming death and contains moral significance frequently depicted in the artist's work. However, though during this period Rembrandt found a refined artistic style, other facets of his life were by no means smoothed quite so easily. Driven by debt, he was forced to sell his house in 1656, the Amsterdam City Hall rejected his 1662 commission The Conspiracy of Claudius Civilis, and Hendrickje died the next year, followed by his son Titus in 1668.
See also: Vincent van Gogh: The Myth of the Tortured Artist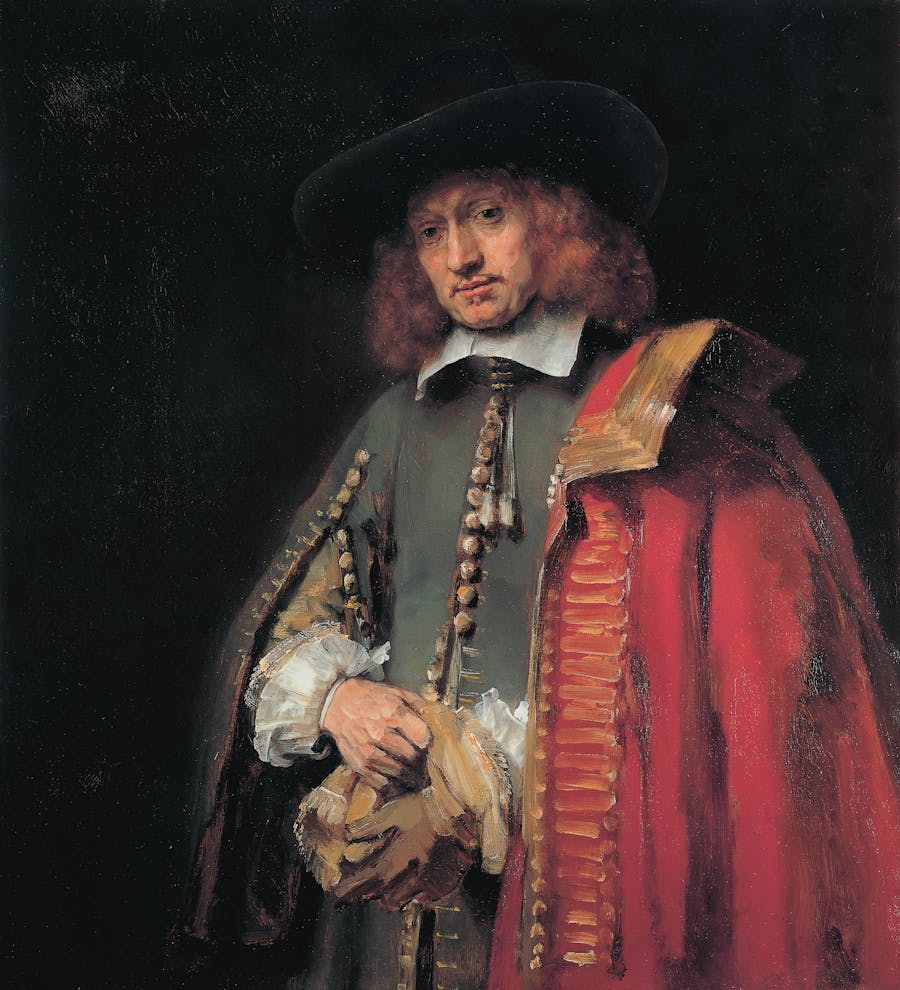 The artist survived them and continued to paint, but his raw and naturalistic style was less appreciated in contrast to today. From the 1620s until his death, Rembrandt painted around 100 self-portraits, creating a true pictorial autobiography. The first examples show his ambition near the beginning of his career, as in Self-portrait in Oriental Costume (1631). The last self-portraits, attesting to the painter's misery, are the darkest and most magisterial. The Self-Portrait with Two Circles (c. 1665) is undoubtedly the most enigmatic and complete of the whole series. However, in 1669 Rembrandt died in poverty, at the age of 63.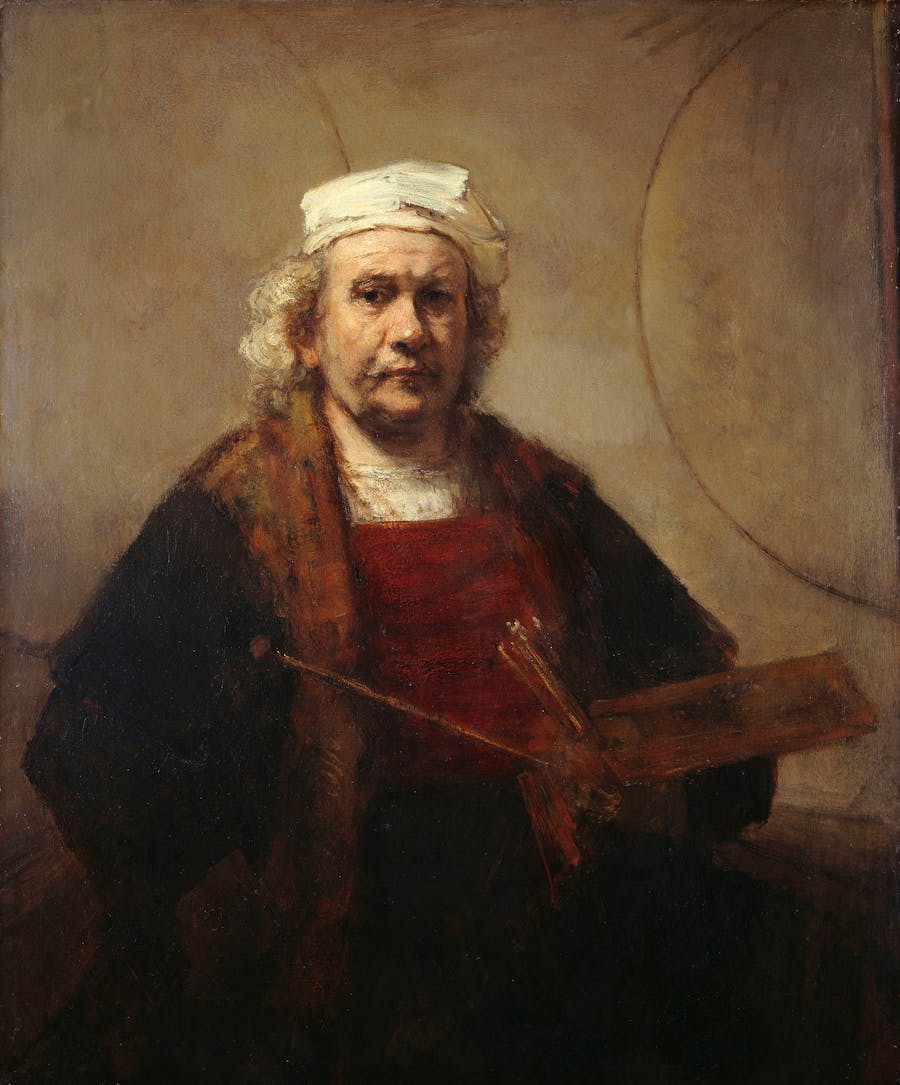 Today, Rembrandt is remembered as an outstanding portrait painter who experimented with a wide variety of genres, which was unusual in an era when many artists were specialised. His inclination to copy himself also rubbed off on his students, a habit, which, along with his He had a variety of signatures, sometimes using his full name and other times using variations of his initials, and even using different spellings of his name. Pieces are regularly assigned or declassified, according to successive expert reports, but there are currently around 350 confirmed 'authentic' Rembrandt paintings that today can be visited in museums all over the world.